Rangers midfielder Joey Barton who has been charged for betting has asked the Scottish Football Association to extend his appeal date.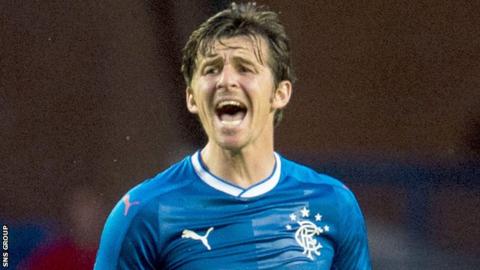 The player was guilty of placing 44 bets on football games from the period of July to September.
It is believed that Barton placed bets on a variety of matches and only one game concerned Scottish football directly. The Rangers player put bet on the match between Celtic and Barcelona. Apparently, the midfielder believed that Celtic would be hammered by Barcelona in the Champions League match.
This is not the first time that Joey Barton has issues since his arrival at Rangers. Indeed he is currently serving a ban by his club for fighting on the training ground. He is currently barred from playing and training with the club.
The Scottish Football Association will assess the request, and a decision will be made by Thursday. It is believed that there is a big amount of documentation to be considered and that Barton would want his lawyers to have enough time to review the case before appearing before the Scottish Football Association committee.
Joey Barton did not wish to make any comments on these issues and said that he would make a statement at the right moment. He said that at the moment he wants to clear his name and that he will need time before appearing before the committee. When asked whether he will play again for Rangers he said that it would all depend on the outcome of the case. He said that he still wants to play for Rangers and that only time will tell whether he will be allowed to play again. It is believed that Williamhill have co-operated with all the FA's enquiries.
Barton has had a career that has been marred by poor conducts and disciplinary issues. This case is not new to him, and he will surely come back stronger.